2021 Toyota RAV4 Prime: Two Year Long-Term Owner Update
I have owned the RAV4 Prime for over two years and 16,000 miles.  This longer-term review adds to my previous one-year update and winter update.  I can still say this was a solid purchase back at the time of paying MSRP and getting the full federal tax credit.  Here are my best reasons to own one:
Road Trips.  Affordable electrics will catch up someday, but there is no substitute for well over 400 miles of extra range beyond the 40+ EV miles.  Even when it's below zero and you are towing, you will get nearly 400 miles total range before a quick refill at a gas station.  EVs are great in the Southwest, but not nearly as flexible in the upper Midwest where chargers are fewer and more often out of service in extreme cold when you need them most.
Home charging is much easier.  Many owners can make do with the included OEM charger to get the full 40+ miles EV range overnight.  If you are in the ideal use case of daily driving under 40 miles, there's no need to spend hundreds on a higher speed charger or thousands on an electrical upgrade to your home.  Can't charge to full between drives?  No worries, you can still get to where you need to go in hybrid mode using gas.
Does everything reasonably well.  As long as your expectations aren't too high when spending close to $50K on a Toyota, you'll be quite pleased.  No, it doesn't give Lexus quiet/comfort and won't give 4Runner TRD off-road performance.  Still, there's a reason the current generation RAV4 has been the bestselling vehicle in the USA that isn't a full-size pickup truck.  The RAV4 is a solid, small SUV that gives a lot for the money, even if it isn't the best at anything in particular.  The Prime version combines that with decent performance, plus AWD and some towing capability.
Efficiency.   This is one area where it does excel.  Few AWD SUVs can get close to 50 miles EV range and then nearly 40 mpg on gas only.  Refueling on gas has been rare for me.
The huge markups over MSRP are now returning to normal, but the tax credit is still gone for buyers at this time.  That makes the R4P a much tougher value choice today, especially when vehicles like the Tesla Model Y have dropped considerably in price and now get the full federal tax credit.  On the plus side, it seems that some regions now have a lease cost reduction for most of the federal tax credit from Toyota Financial Services.
As for my ownership experience, there are no major negative issues to report.  There was one reliability issue.  I had a loose EV charging port door when I brought it in for my free 18-month service.  I note that some other owners reported the same issue in online discussion groups.  My dealer had to order a part and replace the door at a follow-up visit.  Seemed like a simple repair.  Apparently, it was a few hours of dismantling one side of the of the interior cargo area just to access the door.  In the process, they accidentally broke one of my cargo nets and added some minor scuffs to the interior.  As usual, they contacted me repeatedly about giving them a top satisfaction survey and asked me to let them know if I had any concerns before giving them anything less than the best ratings.  I let them know but they didn't care.  Weird.
On the plus side, they did do a software update for a technical service bulletin fix for a cold weather "foghorn" noise.  Last year, the other local dealer refused to do this update when they were doing a software update for a recall at my 1-year free service visit.  Even this second dealer was skeptical that it was going to resolve the issue, since they couldn't find any diagnostic codes in the computer.  I asked that they do it anyway.  They did.  Prior to the update, the noise happened almost every cold start when temperatures were close to freezing or below.  It did not return even once for the remainder of the winter.
All in all, no major headaches so far and the dealers have resolved all the minor issues.  The only other problem I had is an alignment issue that I mentioned in the one-year update.  That was covered under the Toyota 12-month, 12,000-mile warranty, after some reluctance by the dealer.  I suspect some dealers prey on owners who don't know this is a covered service for one year and then hope to charge them over $100 for the alignment when their optical system detects a problem as you pull in for your free service visit.  No alignment issues or any other issues were noted at my 2-year service visit.
Overall, it has been a great vehicle.  My summary from the one-year update still holds, so I won't repeat it all here.  No other quality issues.  No noises or squeaks or rattles or other nuisances.  The ride is comfortable on the highway and pretty quiet around town, too.  The one exception is around town when the noisy 4-cylinder engine first kicks on in cold weather, which it often does when it's well below freezing.  To be fair, it's not any louder than our Honda Insight, but you do notice it.  I chuckle when some owners complain the engine is too loud when they give it some gas.  I mean, for many people with a 300 HP machine, that's exactly what you want!
For fuel economy, I have slipped only slightly since a year ago, to 2.9 miles/kW*hr overall average since delivery, down from 3.0 miles/kW*hr a year ago.  This may be due to less conservative driving.  My EV range estimate still reaches 54 miles in its 3rd summer.  I do notice that the actual EV miles are now usually down in the mid-40s, whereas they were always over 50 miles in essentially the exact same type of driving as previous summers.  In limited HV driving, I still get over 30 mpg highway at 70+ mph and in the high 30s at lower speeds.  I get over 40 mpg around town.  Since my daily driving has generally been under 40 miles, gasoline comes in handy mainly for quick fill-up convenience on road trips and also during the winter.  I recently managed over 3800 miles on a tank of gas, something I won't likely repeat, due to more frequent road trips ahead.
Feature-wise, I still find the seat ventilation and heating systems to be relatively weak compared to any other car I've driven recently.  Fortunately, the air conditioning works great and cools off the R4P quickly, even at 100 degrees with high humidity.  Closing the moonroof shade helps, as does turning off Eco driving and climate modes and making sure re-circulation is ON and fans are at maximum.  These settings will also help the maximum seat ventilation fan speed a bit.  I have some winter cabin heating tips in my winter update.
I find myself using the nice heads-up display less over time.  Force of habit, I guess.  On the other hand, the rear-view mirror camera and "overhead" camera views are very useful almost daily and they really help for parking and backing.  The rear cross-traffic alert is another great feature.  An overlooked bonus of the mirror cam is that you get a wider angle view of the back, even if a full load of cargo would block the view of a normal mirror.  It also comes in handy along with the 120V outlet if you want to put some lights in your rear window and still want to see out the back!
One nice thing about plug-in hybrids is that you don't really need an expensive charger or upgrades to your house to power it.  They plug into a regular outlet and usually charge up overnight.  I used the included Toyota 120V charger for a year and a half and had no issues.  Along with a recent home remodel, I upgraded to a 240V, 16A portable charger.  Our electrical panel didn't support anything faster without major expense.  This new 3.8kW charger is well under the 6.6kW capability in my R4P with Premium Package, but still provides over 10 miles of range per hour of charging.  It won't be ideal for a future EV with faster charging capability, but still great for the R4P and for homes without the capacity to add a 40 Amp or even a 32 Amp circuit.
Another salty Chicago winter has passed.  No issues at all with traction on city or suburban roads.  The AWD system is perfectly adequate for slippery streets and even up to 6 inches of unplowed snow on pavement.  As for off-road, I haven't done anything but fairly well-groomed gravel roads.  No issues there, even on a steep hill.
There are owner complaints about Toyota's Electronic On-Demand All-Wheel Drive system found on the RAV4 Prime and hybrid models.  I suspect this mainly has to do with overly high expectations, especially in regard to the high power and torque available at zero or low RPMs.  Plus, many buyers fall for manufacturer AWD marketing jargon and don't really understand the limitations of the AWD systems found on most mainstream crossover vehicles.  In the case of the R4P, the bulk of the available power and torque is on the front axle.  Only a small electric motor powers the rear.  While electric motors have appreciable torque at zero RPM, most other crossovers can send considerably more oompf to the back.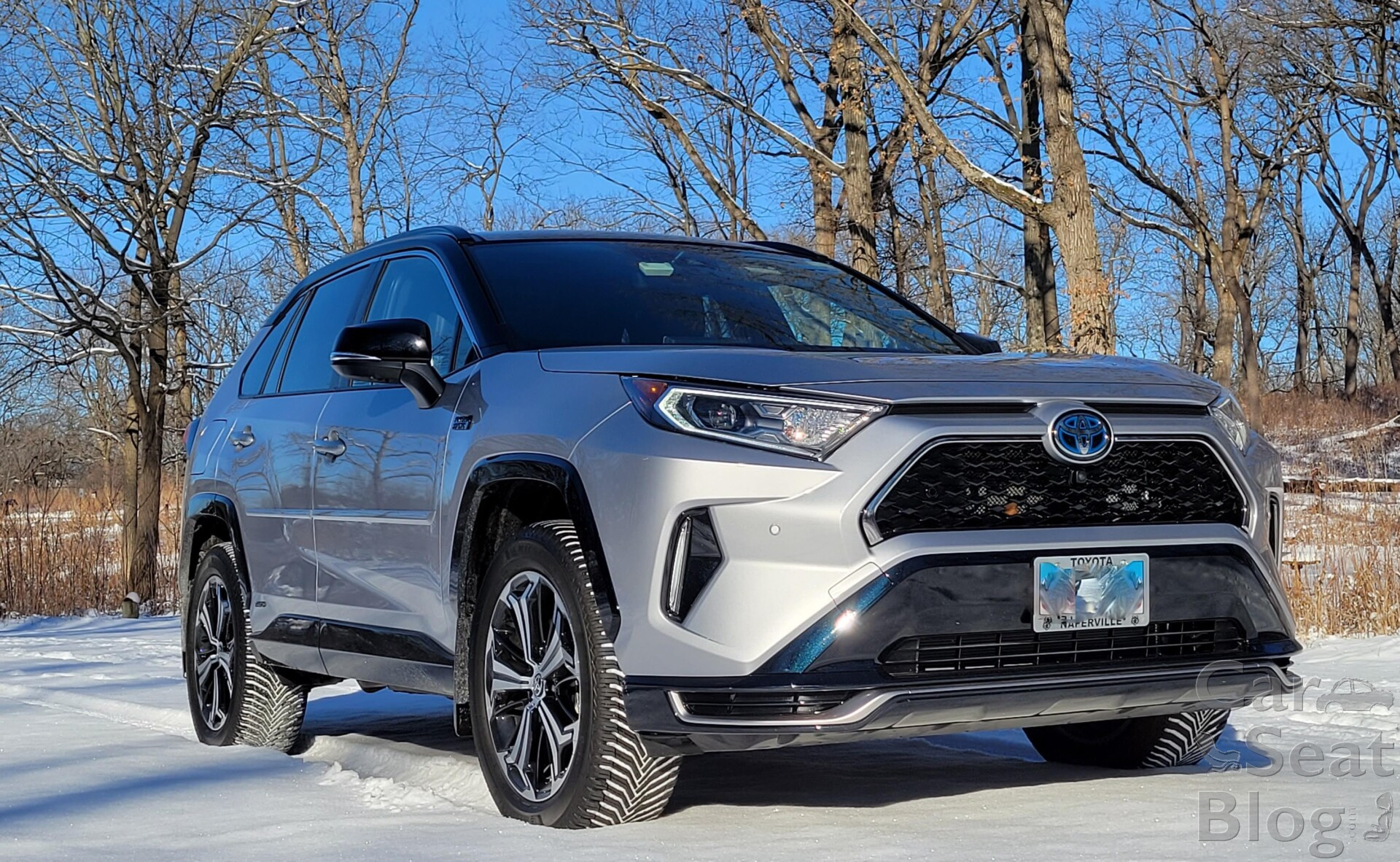 Like many small and midsize crossover SUV competitors, the Prime relies upon traction control to brake a spinning wheel in order to allow some power to shift to the other wheel on the same axle.  This is sufficient for most on-road conditions, but traction control braking is inherently limited.  To be fair, most mainstream compact crossovers have the same exact fundamental limitation, even if Toyota's traction control software does not respond as well as some other manufacturers. The Prime's "Trail Mode" feature sounds great, but actually allows for *more* wheelspin to help in certain situations.  This is not usually beneficial for slippery roads where you want traction control to shift power as quickly as possible to wheels with the most grip.
Traction control is simply not a substitute for true 4WD systems that have High/Low and locking features, or even advanced AWD systems with electro-mechanical limited slip differentials that can send much more power to a wheel with grip and do it more quickly, too.  For one example, the RAV4 Adventure/TRD has this type of limited slip differential on the rear axle as part of their dynamic torque vectoring.  Also, the reduced traction and greater fuel economy of the low rolling resistance OEM tires on the RAV4 Prime are not suited for slippery roads or off-roading.  The RAV4 TRD adds all-terrain tires that will improve traction.  Even though some reviewers do amazing things in their videos of the RAV4 Prime with the OEM tires, you really need all-terrain, all-weather or winter tires for anything serious.
Back to the salty conditions here, I inspected the underside and did not see any major corrosion.  This may be a concern because of owner fears about "cablegate" regarding a cable harness assembly common to various Toyota hybrid and plug-in hybrid vehicles.  Some apparently corrode very quickly in cold-weather areas with lots of road salt.  The part has been updated a few times.  In March, 2021, Toyota improved the part by removing a section of the plastic cover for better drainage.  It is unclear if any other changes were made to the alloys or plating used, in order to slow galvanic corrosion.  Here's how mine looks after 2 years, it was made in April, 2021:
There is some discoloration, but nothing major.  In automotive environments, it can be extremely expensive to prevent corrosion by waterproofing or selection of costly alloys or metal plating.  The goal is to slow corrosion, so the part can last for many years or decades.  Toyota is covering this part on some RAV4 hybrids with an extended warranty.  The verdict is still out for the RAV4 Prime.
The verdict on my purchase is in, though.  I would definitely buy one again if cost was not a factor.  Two years ago, at least, it was a decent value and it has been a great driver ever since.  Plus, it looks sharp.  I still get compliments on the glossy black trim, accent lights, and unique wheels that make the XSE stand out a bit from the sea of RAV4s on the road.  It is essentially just a RAV4, so it is not going to be the best at anything, but it does almost everything pretty well.  My only reservation is that it's much harder to justify buying one today without the federal tax credit vs. a RAV4 Hybrid, Tesla Model Y or another competitor.